Food & Nutrition
Bully Max High Performance Dog Food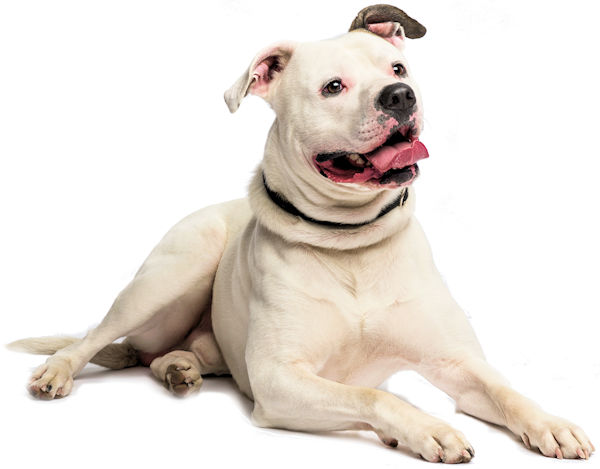 When feeding your Bulldog, like every animal, including you and I, require a well balanced and wholesome diet which should be low in fats or any artificial ingredients.

A Bulldog likes to eat out of a pan with straight sides and a flat bottom; the best dog bowl is a stainless steel because,it not only lasts longer but it is also the most sterile and very easy to clean.

Bulldogs can actually break out in what look like pimples if they are fed from other types of bowls so don't use plastic bowls for the food or the water.

Most breeders will feed two to four month old puppies four times per day and at that young age age the puppy kibble is usually softened with a sprinkling of warm water.

Some people even add a bit of cottage cheese or a unflavored low-fat yogurt. It is best to do your research and choose a high quality food as their are are several good brands of puppy kibble but some have more filler than others so always seek out the top quality.

If you or the puppy seem to be unsatisfied with the kibble she is eating then try another.

In order to have a healthy growing dog you really want to offer a kibble that the puppy likes and which helps produce a nice coat, keeps the puppy well rounded but not obese or overly plump, and produces good solid stools.

We are not here to recommend a particular brand over another but some of the better quality dog food is made by Iam's, Nutro, Eukanuba, Purina Puppy Chow or Science Diet.

As you would on the food your family consumes, check the list of ingredients on the bag. Never feed your Bulldog a kibble that contains soybeans.
You may feed your dog on a set schedule, or have food available for her at all times. The bulldog pup will flourish under either system and the choice depends on which is more convenient for you and what sort of lifestyle you live.

There are even automatic feeders to keep a regular timetable for your dog but don't rely on an automatic dog feeder to allow you to leave the dog alone for days on end! They shouldn't be left alone and if you are the type of person who enjoys long trips away from home then perhaps this sort of pet isn't for you.

How much you will feed her depends on the individual puppy. Normally, a growing puppy which gets sufficient exercise can and should eat as much as it wants but if the little fellow is a bit of a lazy bones and she does start to show signs of obesity you will need to regulate the amount of kibble she eats, but never ever put a growing puppy on a severely nutritionally restricted diet unless the animal is being supervised by a veterinarian who is knowledgeable in the care of Bulldog puppies.

When your animal has reached four to six months the puppy's feeding routine should remain the same but the number of feedings may be reduced from four down to three and furthermore at about six months of age this number can be reduced to two feedings per day.
In almost all cases you can continue feeding your puppy as much as she wants and how often you feed a dog over a year old depends on your preferences and the dog's desires and habits.

Most dogs do well on one meal a day but some do better if they are given two smaller meals a day once in the evening and once in the morning; whatever the feeding schedule you establish try and stick to it as much as possible.

Bulldogs will eat puppy kibble usually until they are a year old and if your little rascal is thriving on puppy kibble, leave her on it until she is two years old and some people will even feed their dogs puppy kibble for their entire lives but it is more common to switch to a more mature and adult kibble at around their first birthday.

It doesn't hurt your bully mix to change from one brand of dog food to another and even to another as long as each change of brand is done by gradually, substituting more and more of the new brand for the old.

This keeps the dog from having periods where she is adjusting to new flavors and textures which could cause disruptions in her regular diet.

If your dog is spayed or neutered and certainly as it ages and the dog's metabolism slows down and the bulldog becomes less active, you may need to start feeding a reduced calorie dog food to keep it from becoming too fat or seriously obese.

All good brands of dog food have such a low calorie kibble and the dog will probably prefer to stay within the same brand once you introduce the "lo-fat" version. No matter how old your dog is she should have fresh clean water available at all times.

The most common nutritional supplements for bulldogs are cottage cheese, yogurt and oil. Cottage cheese is very good for growing puppies since the Bulldog must grow a lot of dense, heavy bone in a relatively short period; offer about one tablespoon at every feeding.


Offering yogurt will help to keep the dogs digestive system working normally as such living milk products contain beneficial bacteria that is good for the gut.

Give them about a teaspoon per feeding. Keeping the fur and skin in good condition can be assisted by giving the occasional feeding of oil. Oil will keep the coat and skin in better condition so you can feed her about a teaspoon two times per day. Do not give your Bulldog any oil which contains soybean oil!

Corn or canola oil is best. If you want to reward your dog with a wee treat it is best to avoid people food and give dog biscuits.

It won't hurt your Bulldog to give him an occasional bite of meat, vegetables, fruit, chicken, ice cream, etc. but don't make this too much of a habit and never feed your dog from scraps right off the kitchen table as this will instill unwanted behavior.

Never give her onions or chocolate!

Start Training Your Dog Early

If you want the housebreaking to go quickly and want to effectively follow the expert advice on house training a bulldog then regardless of the method you use you need to spend as much time as possible with your puppy. Probably the most important rule to remember when house training your dog is: If you don't catch your puppy doing it then don't punish him for it! You have to praise your puppy when things go right so you need to ensure that the only time you interact is when your puppy has done something bad and you sternly scold her with a loud "no" .

If they do something right, let them know and as we stated earlier the house training of your puppy should begin with a good, constant feeding and watering routine; establish set times for eating from the beginning and feedings should be scheduled whenever someone will be home take or have your puppy go to the right spot for a bathroom break. Most puppies like to eliminate within 20 minutes after a meal and your house training will be very successful if you can take the puppy outside at these times right after the meal as this puts the focus on this chapter of house training on teaching your puppy where to go to the bathroom. With such encouragement, your puppy will soon learn that where to go is outside and not in your favorite pair of slippers!

Inside the home, in the day to day schedule of a family's daily life supervision and confinement are the most important tools in successful house training. Keep him in the room with you, using a leash if necessary when she is younger to prevent her from wondering off; eventually the leash won't be necessary as the dog will learn not to go wandering. If you start to notice a restlessness or the start of whining bring the dog outside. If you cannot supervise your puppy during these times then confinement may be required. Try using protective child gates or the dog crate but don't confine the puppy so often that it feels isolated.

A bulldog puppy is a sociable creature and needs to be with people or other pets. When you take your dog outside, you need to let her know what she is supposed to do. Repetition is important in dog training and taking them to the same place through the same door with the same leash is a good way to build positive habits. Use a key phrase to encourage him so when she actually begins to eliminate, shower the dog with praise and once she has eliminated, it is a good time to play as the process of reward, praise and encouragement will go a long way if you take the time to continue doing it. Always make sure you make the dog understand that you are the boss; the leader of the pack!


American Bulldog Bible And the American Bulldog:
Covers American Bulldog Puppies, Mini Bulldogs, American Bulldog Training, Johnson Bulldog, And More!

Everything you need to know about the American Bulldog - from American Bulldog Puppies through to the adult American Bulldog, this is the definitive American Bulldog Book!

Covers American Bulldogs, Bulldog Puppies for Sale and how to find them, and everything about raising a healthy and happy American Bulldog.


Dogo Argentino And Argentine Dogo: Dogo Argentino Complete Guide Includes Dogo Argentino, Dogo Argentino Puppies, Argentine Dogo, Argentinian Mastiff, Dogo Dog Care, Dogo Breeders, And More!




The Dogo Argentino, sometimes called the Argentine Dogo is an incredible & powerful breed.

From puppies & how to find the best Dogo Argentino for sale, bringing your friend home, the adult Dogo- this guide covers it all!

Alapaha Blue Blood Bulldog
( Otto) Training Guide Features: Alapaha Blue Blood Bulldog Housetraining, ... Behavioral Training, Tricks and More



This Training Guide is amongst one of the most resourceful and informative out there. Reliable and tested information - written by a highly experienced Trainer.

Contains a wealth of interesting facts and reliable information, along with detailed advice for owners.

Boxers
(Complete Pet Owner's Manuals)




This muscular, shorthaired canine makes a wonderful family pet.

He is good with children but needs regular exercises to prevent boredom, which often instigates bad habits.

All titles in Barron's profusely-illustrated Complete Pet Owner's Manuals introduce inexperienced and prospective pet owners to the pleasures and duties of pet care.

They also make ideal guides for older children having their first experiences as animal caretakers.

The Staffordshire Bull Terrier:
Your Essential Guide From Puppy To Senior Dog



The Staffordshire Bull Terrier is one of the most popular breeds of dog, and here at last is a book to do it justice.

The 'Best Of Breed' series is a ground-breaking truly breed specific book, from the first page to the last and is perfect for all pet parents.

Written by breed experts, this book will enrich your pets life and help you train and care for your dog from day one.
Staffordshire Terriers:
American Staffordshire Terrier and Staffordshire Bull Terrier



Over 250 color photos as well as a gallery of historical black and white photos photos depict the past and present of the staffordshire Terriers.

This book will prove invaluable to active members of the breed fancies and pet owners alike, as it offers information concerning history, breed conformation, management, and health care.

The American Pit Bull Terrier Handbook
(Barron's Pet Handbooks)




When properly socialized at an early age, the very energetic American Pit Bull Terrier usually matures to become a friendly animal and a good family pet.

This updated title is an addition Barron's popular Pet Handbooks series.

Comprehensive pet care information on specific animals and breeds, with advice on selecting and acquiring an animal, feeding and health maintenance, and much more.

American Pit Bull Terrier
(Smart Owner's Guide)




Dedicated to the American Pit Bull Terrier, one of the world's most loyal, intelligent, and versatile breeds, this Smart Owner's Guide, created by the editors at Dog Fancy magazine, offers the most up-to-date and accurate information every dog owner needs to become a well-informed caregiver for his dog.

Illustrated with color photographs of adorable puppies and handsome adults, this easy-to-read primer is designed in a modern, lively manner that readers will find user-friendly and entertaining.


American Bully Training Guide
Includes: Socializing, Housetraining, Agility, Obedience, Behavioral Training and More



This Training Guide is a truly informative and unique book, full of reliable and tested information - written for the admirers of this wonderful breed.

It is an easy-to-read, and in-depth text which you will thoroughly enjoy, and it contains a wealth of interesting facts and reliable information.


Miniature Bull Terrier (Comprehensive Owner's Guide)



The compact version of the Bull Terrier, this Miniature offers all of the fire and fearlessness of his bigger brother in a more manageable, portable package.

A happy, friendly dog that thrives in an active family where he serves as an affectionate companion and courageous watchdog.

Smaller than the Standard Bull Terrier, the Miniature Bull Terrier is stronger--pound for pound--a true mighty Mini!
Boston Terriers (Complete Pet Owner's Manual)



This manual focuses on the care of a friendly, intelligent dog that is easy to care for.

Boston Terriers make ideal household companions, whether for a family or a lone apartment dweller.

Barron's Complete Pet Owner's Manuals are written mainly for prospective and inexperienced pet owners, introducing them to the details and responsibilities of pet care.

The heavily illustrated books in this series are also helpful for older children seeking pet care information and advice.
I'm a Good Dog:
Pit Bulls, America's Most Beautiful (and Misunderstood) Pet


About Ken Foster:
Ken Foster lives in New Orleans with his dogs, Brando, Zephyr, Douglas and Bananas. His work has appeared in The Believer, McSweeney's, Bomb, The New York Times Book Review, Time Out New York, The Village Voice and other publications.

A collection of his short stories, titled The Kind I'm Likely to Get, was a New York Times Notable Book of the Year. He has also been awarded fellowships to Yaddo, the Sewanee Writers Conference, the New York Foundation for the Arts, and the Wesleyan Writers Conference. He has edited two anthologies--The KGB Bar Reader and Dog Culture--as well as a special issue of the Mississippi Review. His most recent books are the memoir,

The Dogs Who Found Me, and the collection, Dogs I Have Met. In 2008, he founded The Sula Foundation, which promotes responsible pit bull ownership in New Orleans.

The Bully Bible: Everything You Need To Know About The American Bully




Everything You Need To Know About The American Bully : History Of The American Pit Bull Terrier & The Evolution Of The American Bully, History Of The Razors Edge Bloodline , American Bully • Caring For Your American Bully • The Importance Of Socialization, and more.

A valuable resource for fans and owners of the bully breeds.

American Bulldog (Comprehensive Owner's Guide)



The American Bulldog is now one of the nation's most celebrated canine exports, establishing a devoted following around the globe.

Author Abe Fishman provides a controversial but wholly candid retelling of the breed's history and its re-creation in the United States.

The history chapter is followed by a chapter devoted to the characteristics of this exceptional working breed, offering sound advice about which owners are best suited to this vigorous and active canine.
---

The Bully Breeds

Belonging to the "bulldog" and "Bull & Terrier" groups of pure-bred dogs. They are often mis-identified, mis-labbeled, or delibrately called "pit bulls". Many owners of such dogs face prejudice and may be the target of physical and even verbal attacks and campaigns on social media.

Breed Specific Legislation is a way for governments and local authorities to generalize and demonize entire breeds despite the fact that a small percentage of the bully breeds are a danger to society. Often any dangerous behaviour can be traced back to deliberate formation and training by owners.

Below is an example of some of the "bully breeds" and it shows the physical differences in the branches of the genetic tree. Some breeds have been ommitted as they are extremely rare or do not face the same stigma of being labelled as a dangerous dog or mislabbeled as a pitbull. read more

BullyMix.com is all about the mix bully breeds of dogs and is dedicated to good dogs everywhere.

About Us | Contact Us | Terms & Conditions | Privacy Policy | Disclaimers & Affiliations



|

© 2007 - 2018 BullyMix.com
This website is a participant in the Amazon Services LLC Associates USA Program, an American-based affiliate advertising program designed to provide a means for sites to earn advertising fees by advertising and linking to the Amazon.com marketplace. Some product description, photographs and reviews and other various content that appears on this website comes from Amazon Services LLC. This content is Provided 'AS IS' and is subject to change or removal at any time.